Designing and building a website is no longer a case of 'set it and forget it'.
We used to have the luxury of building a website and letting it sit for a year, maybe two, without much thought, without needing to do much. It was a static, albeit digital brochure.
Now, we have a new normal: the incredible pace of emerging technologies, a constant thirst for new content, ever-improving competitive experiences and the realities of online safety and security.
If we want websites to perform and thrive, we must consider them in the same way as any living, breathing thing. They need to be fed, watered, nurtured and kept safe, continuously and consistently. They need to be maintained and managed well in order to achieve the goals of the business.
How you manage your website determines its performance, and therefore its impact.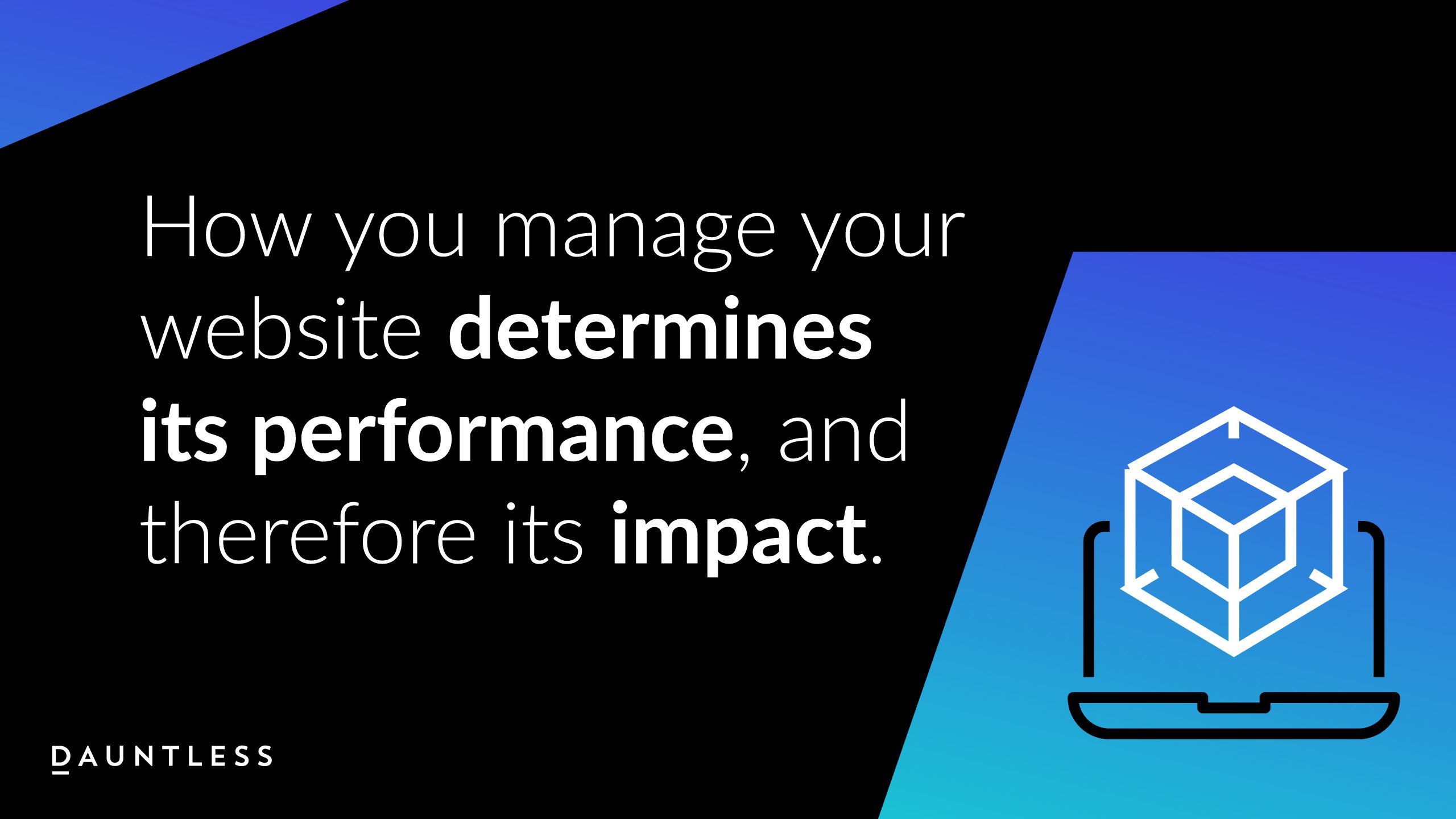 A Story About a Neglected Website

 
Outdated systems don't make it easy to do ANYTHING.
A global giant of a company found themselves in a situation where their website had become inoperable due to integration limitations of their legacy, outdated CMS (Content Management System). Nothing was talking to each other anymore and nothing could be updated so that it did.
The back-end system was far too complex and required such a high degree of manual labour to achieve even the simplest task, such as publishing content, that many considered these tasks not worth it.
Left orphaned and neglected for many years, the limitations in the platform were largely overlooked by the company.
Until, at a critical point, the universal constant called entropy reared its ugly head and demanded the bill to be paid in full. They needed to upgrade and update their systems within a few months or lose everything from the current website. The conundrum: their budgets had already been spent, but missing this deadline would receive blowback that would have a significant negative impact on the business's reputation and ultimately, their bottom line. 
"Impossible situations are just problems that haven't been solved yet."

– Josh Chesney 
They felt they were in an impossible situation; stuck between a rock and a hard place. How could they fulfil their promise to their stakeholders, staff and customers without having the money required 
and
no foreseeable way to solve the technology gap?
They called Dauntless.
Undaunted and eager to help, we went to work quickly to put cost-effective and temporary solutions in place to achieve the company's short term goals. We did this while working with the stakeholders to create a long-term growth solution that would allow the platform to expand and mature over time so that the site did not merely 'exist'. 
Their corporate website could actually begin to grow and thrive as it was meant to do, allowing it to have the impact it needed to have.
We're all about solving for now while planning for what's next.
We deployed the latest technologies, such as a headless CMS, which allowed this company to build what they needed for now (and quickly) and integrate additional platforms over time, as the need arose – without needing to go back and start from scratch every time. We gave them a firm foundation that could be updated regularly and build functionality as they needed it.
This situation could have been avoided.
Maintenance, regular upkeep and updates are cheaper than a crisis, just like preventative care is cheaper and more efficient than "emergency" surgery.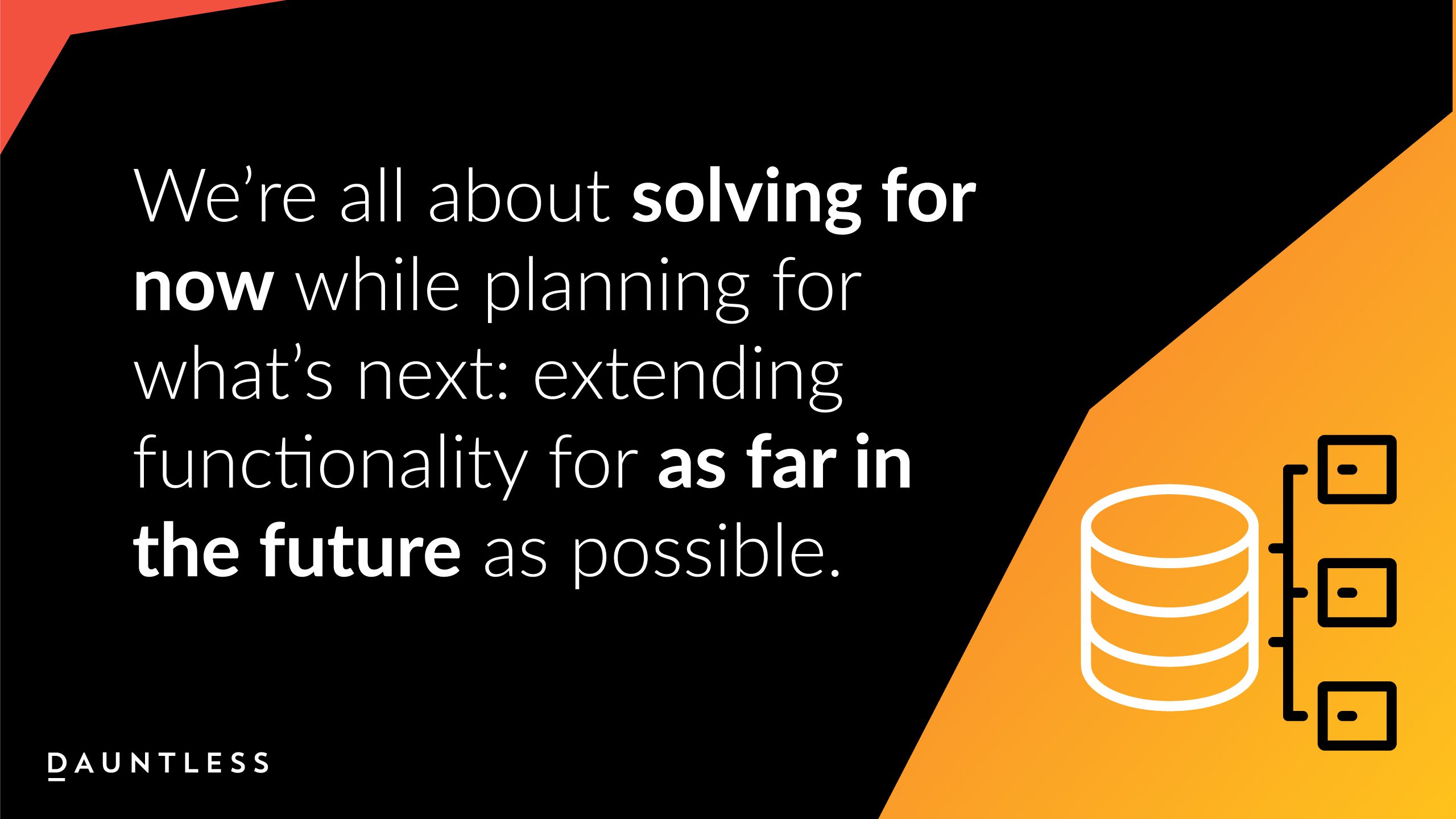 Keeping Up with Technology
Ironically, in an era of rising low-code solutions, agile workflows and dev-ops professionals, this story of a neglected website is an all-too-common scenario and a reality that we encounter frequently.
Gone are the days when companies can sit back and say: 'We built our website last year' or 'Nobody goes to our website anyways' or …(insert your thoughts or excuses here).
It used to be that you could update your website once every couple of years, and keep up with the slower-moving technology (such as changes in SEO best practices, direct competitors and industry leaders).
That is no longer the case.
We are in the era of mobile-dominant technology. The cutting edge is being replaced by the bleeding edge and the competitive landscape is realising increasingly small margins. 
On top of that, technology is being democratised: it's no longer exclusive to the big companies with lots of money. It's available to anyone and everyone, now more than ever.  
Low-code platforms, PWA, automated and integrated tech, means that even you can out-manoeuvre your competition online by working smarter, not necessarily harder.
A website is a full-time, continuous responsibility. 
It doesn't matter where your company sits on the spectrum of website support, the law of entropy applies to every type of website: without applying effort to change and improve, things will fall into disorder.
If you don't know who is responsible for and who is checking on your website, chances are, no one is – or worse, no one knows who is.
 Whether you're on a SAAS model CMS like Squarespace, an SME with small agency support (working off an open-source CMS like wordpress.org), or whether you're a global enterprise paying hundreds of thousands of dollars a year for a world-class marketing platform (such as Adobe Experience Manager), websites still need to be nurtured and cared for so they develop and mature over time. They are alive and require regular maintenance and care to keep them functioning properly.
Just like your favourite houseplant, the longer you neglect something, the more energy + cost + time is required to make it right.
At Dauntless, there's no such thing as 'too late' or 'impossible'.
Something can always be done to improve, mitigate, and resolve the situation, sometimes faster than you think.
We've helped many companies to find the right path forward, the right digital solutions, helping find the most efficient and cost-effective ways to improve and update their websites, apps and platforms. If you need help, simply get in touch. We're ready to answer your questions.