VODAFONE SPOTLIGHT STORIES
Elevating digital experiences through the power of story
As a purpose-led telecommunications company, Vodafone wanted to harness the power of digital storytelling to produce exciting new content in an accessible format.
With exciting initiatives across Europe and Africa, such as tackling digital poverty and utilising new technology to improve sectors like health and agriculture, Vodafone needed to find a way to bring its wealth of activities across its global footprint into one, unified story. It also wanted to bring these experiences to life by creating unique interactive and mobile-first content journeys.
However, Vodafone Group's corporate affairs team faced a challenge—identifying fresh yet sustainable ways to create engaging content that speaks to important issues and motivates their audience.
Winner of the 'Best Use of Mobile' for the Corporate Content Awards Europe 2023.
Introducing Vodafone Spotlight Stories
To support Vodafone in achieving its goals, Dauntless identified Google's popular Web Stories format as a source of inspiration.
By leveraging this technology, Dauntless sought to create a versatile template for Vodafone, integrating video, audio, text, images, and animations. The goal was to support Vodafone to effortlessly craft interactive content experiences that would enable users to navigate stories at their own pace without requiring additional dev support.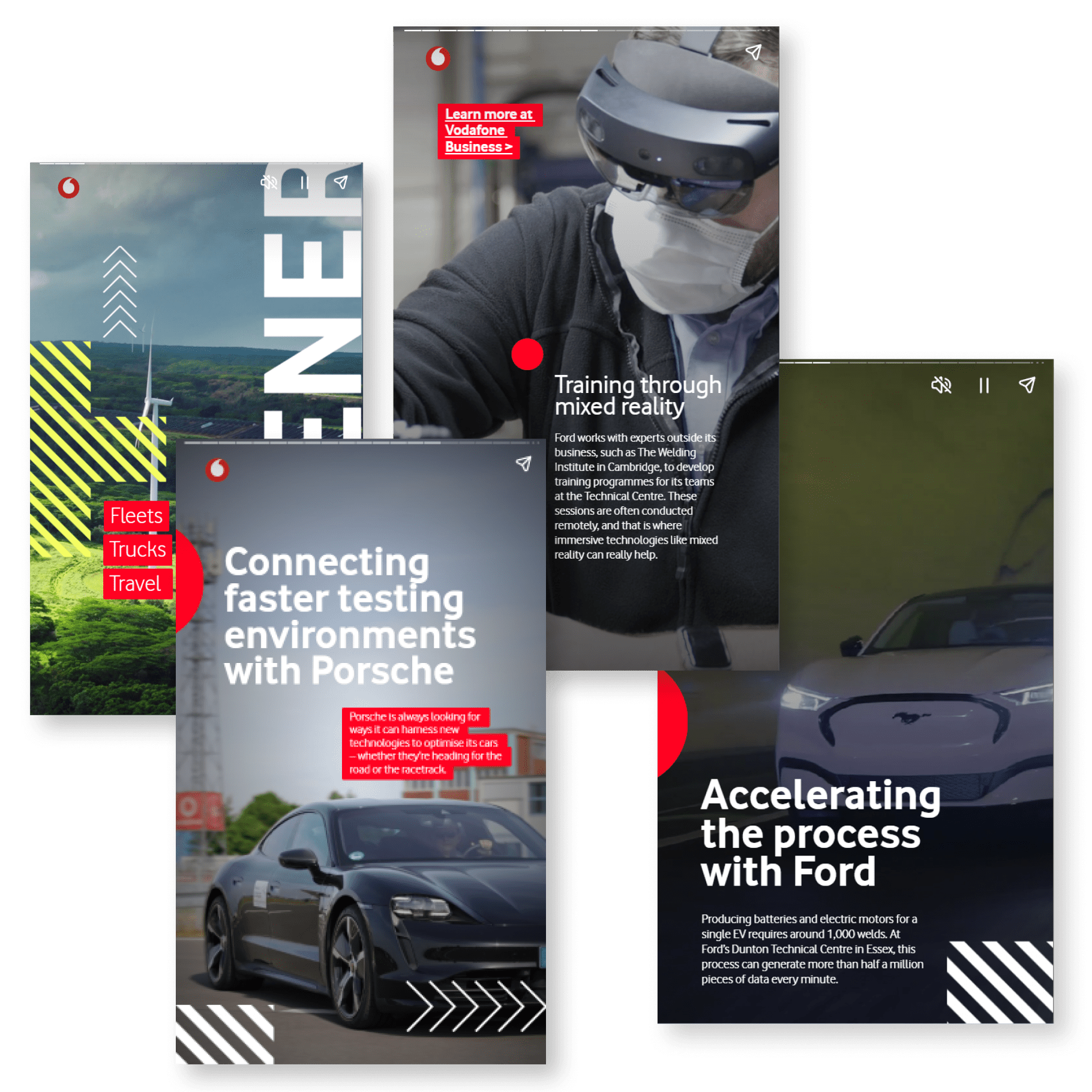 To support Vodafone in creating immersive and captivating content experiences, Dauntless specifically adapted the web stories template to include a range of capabilities. These included a simple interface, flexible formatting and no restricted code.
With the aid of the template, Vodafone's Corporate Affairs team took over the steering wheel themselves and began bringing their content and design ideas to life.
From exploring how 5G and IoT are transforming healthcare to looking at how technology can support a greener planet, Vodafone's Spotlight stories offer new and unique content experiences.  
What's more, by presenting content in a fast, digestible and accessible way, Vodafone's Corporate Affairs team can explore a broader range of learning experiences in greater depth—stories which might've not received the same level of prominence if published in more traditional formats such as news articles or downloadable PDFs.
"The interactive and visual style of Spotlight Stories means we can tell complex news in a digestible and engaging way, bringing together the great things we are doing across our global footprint under one unified story for our audience. Beating previous content benchmarks, we've seen a huge lift in engagement thanks to this format and have been able to connect with more people than ever before."
– Patrick Yiu
Social Media and Channels Lead at Vodafone Group
Explore more Vodafone Spotlight stories
From Engagement to Impact—the advantages of the Spotlight Story Format
Here are the key benefits of the Spotlight Story format:
Mobile-first
To capture the attention of Vodafone's audience, who predominantly access the website via mobile devices, it was critical mobile took centre stage.
Versatile
The format is flexible and provides an opportunity to utilise many different formats, from animations to infographics, to align with today's media-savvy audiences.
Simple interface (UI)
With an improved overall user experience, the simple UI also saves time and resources to develop each time. 
Consistency
By using consistent visual language and tone of voice, you can boost your brand awareness and loyalty. 
Sustainable & future-proofed technology
With no restricted coding, each story can be created with a lean and agile team without needing extra development support.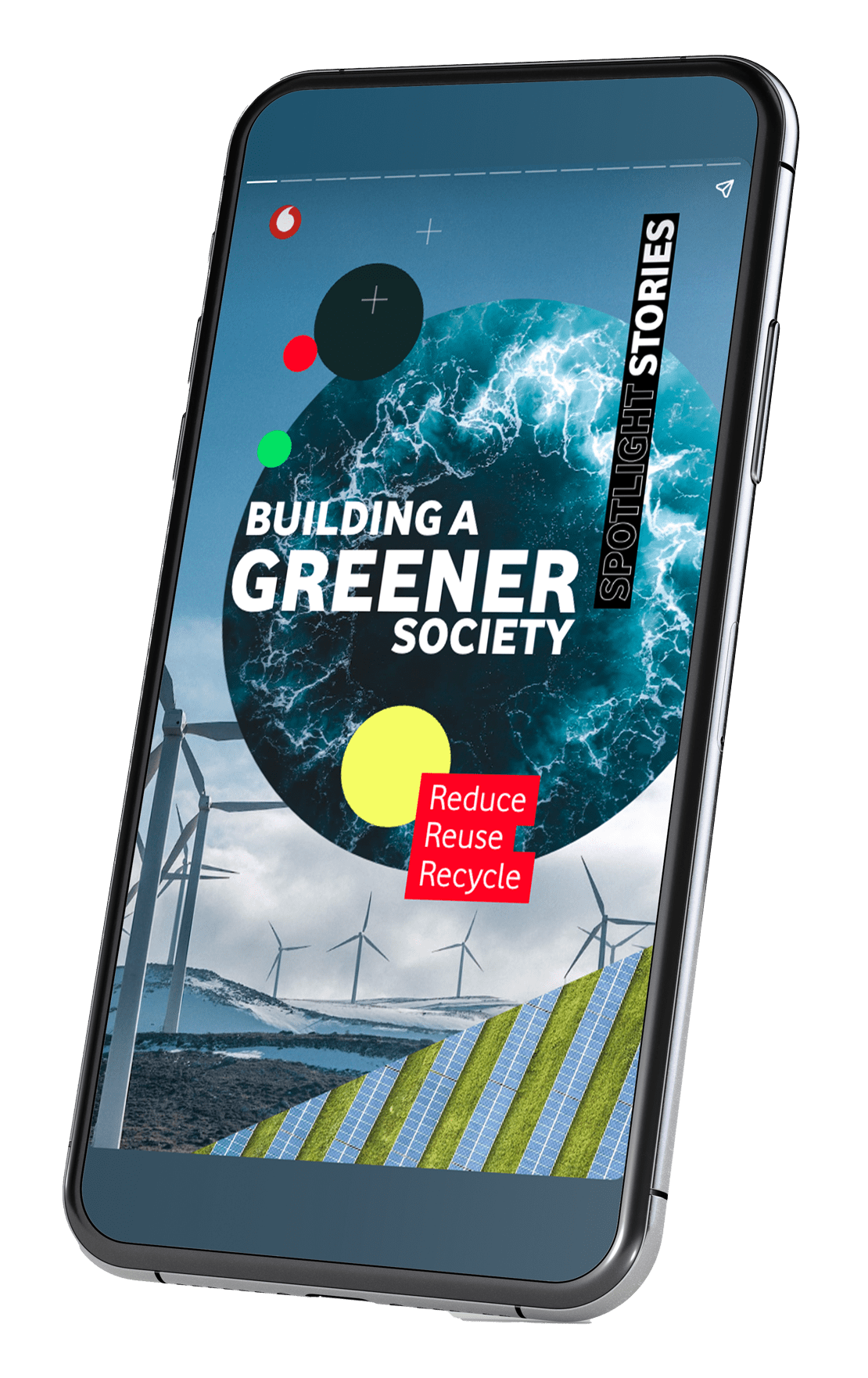 THE LEARNING
Vodafone's Corporate Affair's team sought a vibrant and captivating method to craft their own stories when they approached us. Their objective was to establish a direct and engaging connection with their audiences.
With the adoption of stories template, the team gained full control over their content and design ideas, seamlessly transforming them into web-ready, mobile-first formats without the need for external expertise.
The results were remarkable, demonstrating the immediate impact of the technology.
Although originally designed to meet Vodafone's specific needs, the lessons learned from this project extend their applicability to various other domains and ventures. 
If you want to explore how you can incorporate storytelling in your digital communication strategy, don't wait, get in touch.