Brown Jordan

—

 Building Unity and Efficiency in a Diversified Landscape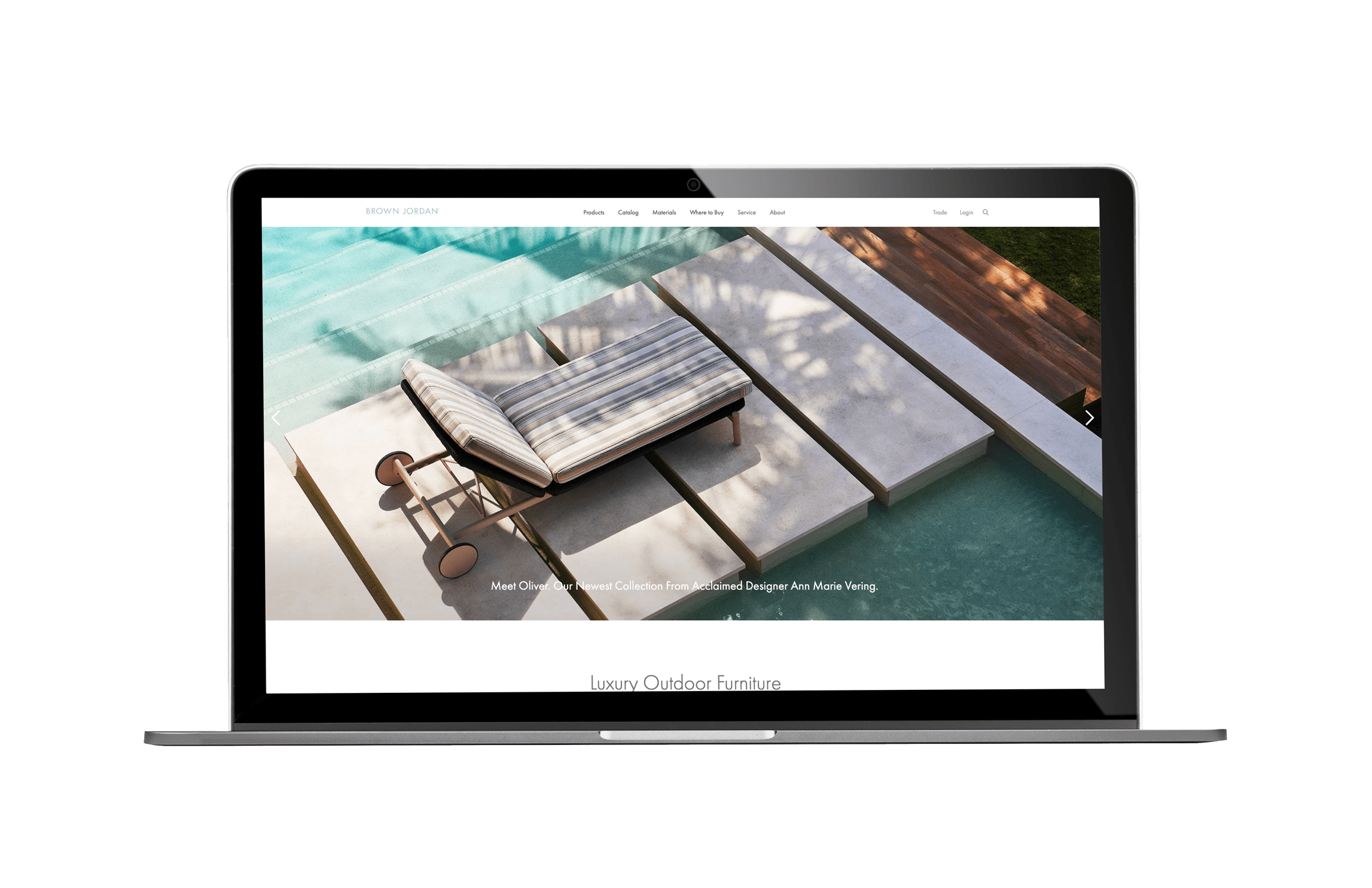 Since 1945 Brown Jordan has been the industry leader in luxury outdoor furniture, specifically known for its iconic and award-winning designs. 
Comprised of six individual brands—Charter, Castelle, Tropitone, Winston, Texacraft and Brown Jordan—the company has grown significantly through acquisitions over the years. 
While each brand possesses unique strengths and market presence, the lack of unified processes, systems, and data has hindered Brown Jordan's operational efficiency and limited its ability to leverage synergies. 
In addition, earlier efforts to consolidate were further hampered by the global pandemic.
Brown Jordan's transformation aims were to improve data, streamline processes and enhance customer satisfaction.
In doing so, the main objective was to create an operational environment more conducive for employees to perform their jobs, make data-driven decisions and enhance the overall customer and employee experience, making it smoother, user-focussed and more efficient.
The absence of a centralised platform and standardised practices made it increasingly challenging for Brown Jordan to consolidate data and generate crucial reports for strategic decision-making.  
For example, this fragmented approach impeded their ability to respond swiftly to market demands and strained internal resources.  
Consequently, lead times started to expand, resulting in a growing backlog that adversely affected customer satisfaction and Brown Jordan's financial performance.
In addition, the business and brand strategies hadn't been drafted or agreed upon by anyone in the business or the governing board. As a result, it is difficult for leadership to make critical decisions and ensure complete stakeholder alignment in transforming the business. 
To achieve its goals, Brown Jordan required a well-thought-out strategy that clearly outlined its current situation and identified potential solutions. To deliver this, Brown Jordan worked with transformation experts who specialised in various areas such as core systems, platforms, resources, and processes to help them determine the most effective strategic approach.
The Dauntless team was a pleasure to work with. With a dedicated and flexible team, they were able to adapt their processes to meet our needs.  Our path forward on transformation will be challenging, but Dauntless helped us build a solid foundation to start.
– Gregory Taggart
CFO, Brown Jordan Inc.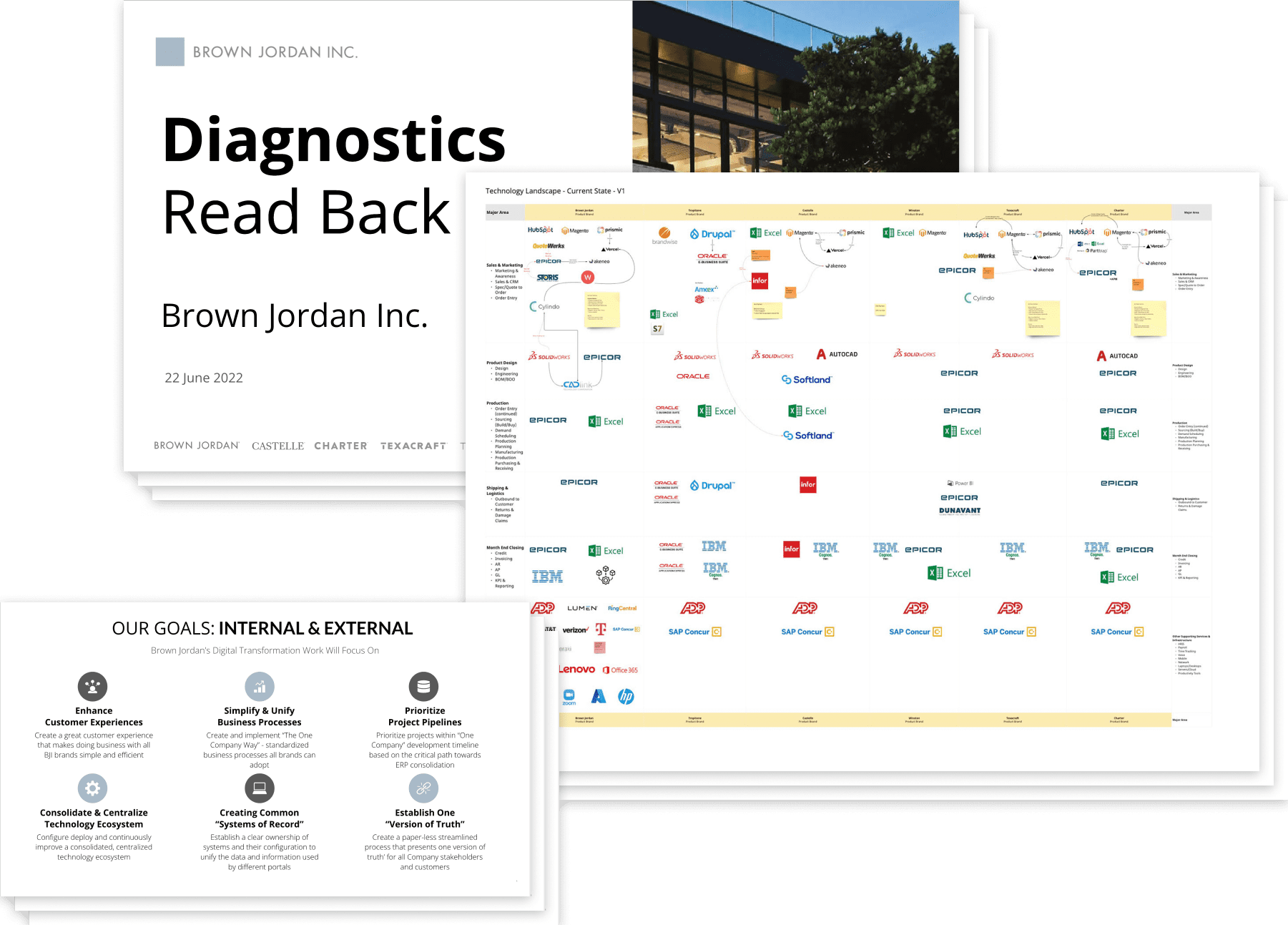 To support the development and implementation of a transformation programme, Dauntless helped Brown Jordan in the following areas:
Diagnostics + Evidence-Based Planning 
Dauntless ran a diagnostics phase to understand the current environment and identify potential digital opportunities across all six brands within Brown Jordan. Part of this stage included a review of gain and pain points, plus gaps in current state capabilities,  processes and systems. Furthermore, Dauntless identified many duplicate systems across the Brown Jordan operational landscape, making standardisation and consolidation an essential endeavour to ensure long-term success. 
Further deep dives and working sessions were conducted at various business levels to better understand the current digital ecosystem and the projects already underway. The additional clarity on the underlying issues also helped determine the dependencies and set the prioritisation.  
A high-level future-state system architecture and ecosystem diagram were created, including initial validation from key stakeholders and a detailed dependency map and critical path. 
To support Brown Jordan's leadership to make critical decisions for driving transformation, Dauntless produced a high-level single-page business case for 37 priority enablers & solutions—this included: Business and Brand Strategy, Unified CRM, Unified ERP, Data Strategy, Design and Engineering Strategy, Production Scheduling, TMS system, and the likes. 
Finally, based on the above discussions, the solutions and enablers were prioritised and sequenced into a high-level roadmap articulating implementation milestones over the next three years.
Dauntless also consulted and coached leadership on fundamental transformation principles.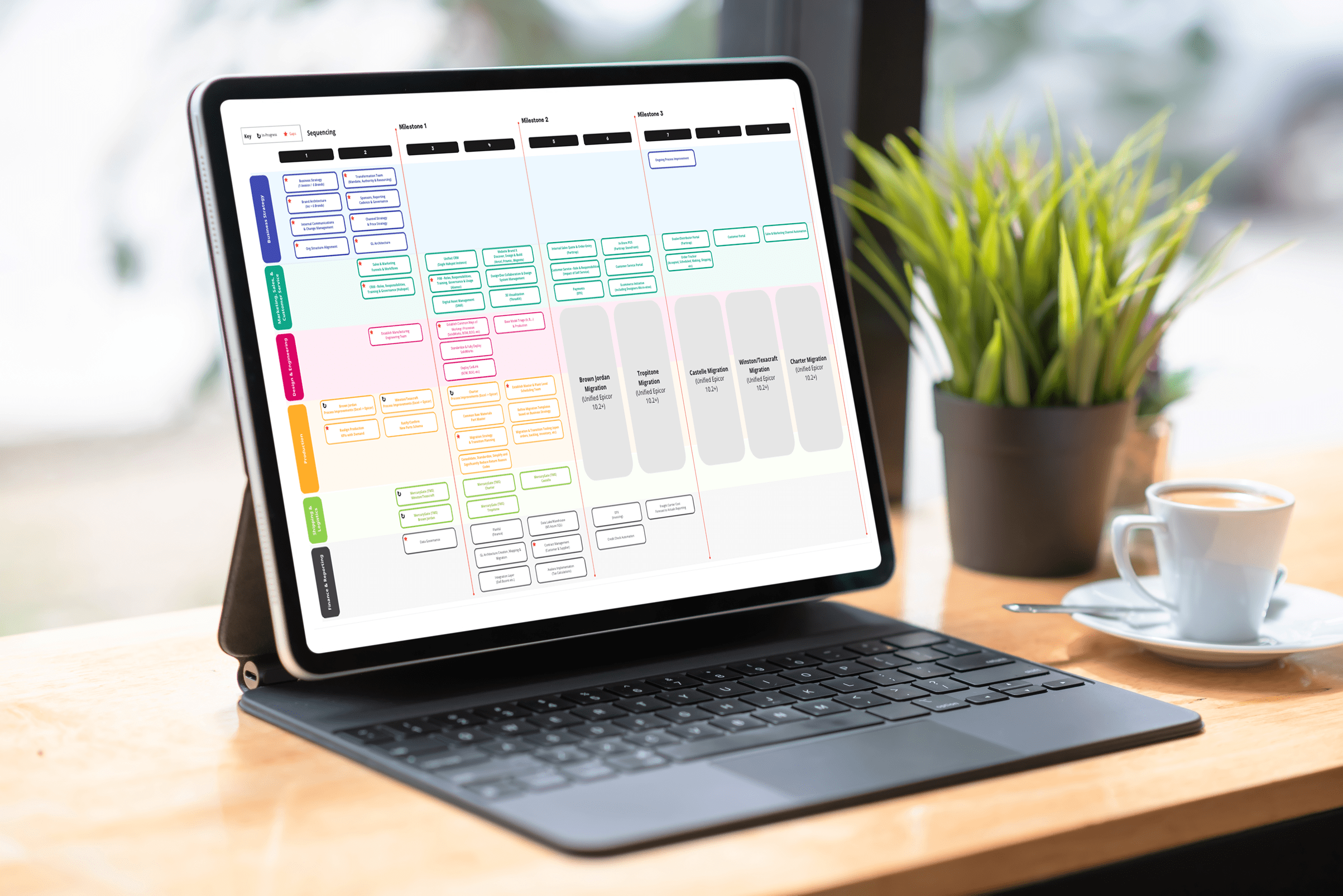 Ensuring everyone is on the same page—aligned with a single vision—is critical during change. To help Brown Jordan effectively convey the purpose, benefits, and progress of the upcoming transformation activities to all stakeholders, Dauntless held a series of workshops and deep dive sessions. The outcomes from these sessions were used to draft and establish a Communications Strategy and Plan for the transformation programme. In addition, this included co-creating Brown Jordan's first communication event at a town hall launch.
The diagnostic was a massive jump-start to transformation activity, providing usable data, structured context, and priorities that would've taken months for an internal team to develop. Even more importantly, the diagnostic provided an objective perspective, allowing teams to focus on the future state, not relitigate the past."
– Adam Linton
CTO, Brown Jordan Inc.
In an era marked by rapid technological advancements and changing market dynamics, businesses face the imperative to adapt and transform to stay competitive. Therefore, Brown Jordan's transformation journey holds significant promise for its future success, aiming to become a unified and efficient organisation supporting its brand strategies.